We are currently operating on the temporary hours below while closed on Monday. Only takeout and delivery are available, no dine-in service at this time due to state compliance.
Lunch special is available. Order is highly recommended by online. Delivery is available during dinner service. Note that the order will take longer than usual due to a smaller staff.
Temporary Business Hours:
LUNCH
Tue-Sat: 11:30 AM – 2:30 PM
Sunday: 12:00 PM – 2:30 PM
DINNER (Delivery avail)
Tue-Thu: 5:00 PM – 9:30 PM
Friday: 5:00 PM – 10:00 PM
Saturday: 4:30 PM – 10:00 PM
Sunday: 4:30 PM – 9:30 PM
Thank you for your patronage.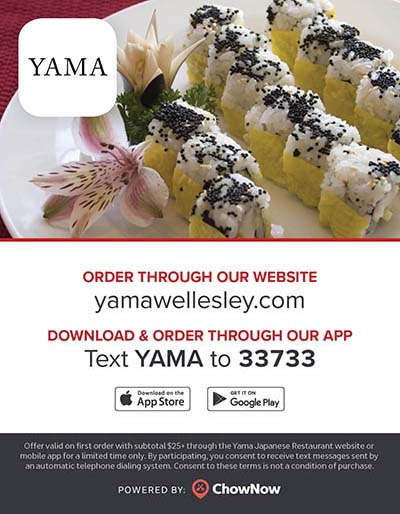 Telephone: 781-431-8886
LUNCH
Mon-Sat: 11:30 AM – 2:30 PM
Sunday: 12:00 PM – 2:30 PM
Lunch special N/A on Sat & Holiday
DINNER
Mon-Thu: 5:00 PM – 9:45 PM
Friday: 5:00 PM – 10:45 PM
Saturday: 2:30 PM – 10:45 PM
Sunday: 2:30 PM – 9:45 PM
Delivery Available (within 4.5 miles)
Wellesley $3.00
Weston/Newton/Needham $4.00
Natick $5.00
Lunch $25 minimum (before taxes & fees)
Dinner $18 minimum (before taxes & fees)
LUNCH
Wed-Fri 11:30 AM- 2:30 PM
DINNER
Mon-Thu: 5:00 PM – 9:30 PM
Friday: 5:00 PM – 10:30 PM
Saturday: 5:00 PM – 10:30 PM
Sunday: 5:00 PM – 9:30 PM